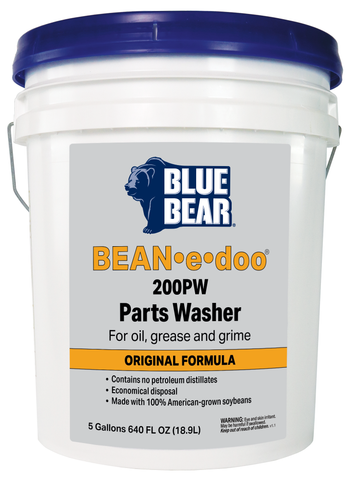 200PW: BEAN•e•doo® Parts Washer
BLUE BEAR® BEAN•e•doo® 200PW Parts Washer is a specially formulated, green parts washer solution for the removal of oil, grease and grime from industrial parts and equipment. BEAN•e•doo is made with 100% American-grown soybeans and contains no petroleum distillates, making cleaning parts safer and eco-friendly. 
Choose BEAN•e•doo for a powerful, safe and sustainable cleaning solution for your shop.
Contains no petroleum distillates
Economical disposal
Made with 100% American-grown soybeans
APPLICATION: Use hot or cold. Do not dilute BEAN•e•doo. Soak part to be cleaned. To decrease soaking time, periodically scrub the part with a wire or heavy bristled brush. Use compressed air or wipe with a damp rag to remove all residue.
| | | |
| --- | --- | --- |
| Ingredients | CAS.No. | Function |
| Soy Methyl Esther | 67784-80-9 | Solvent |
| Surfactant | 68439-46-3 | Rinsing Agent |