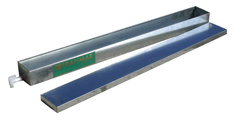 Automotive Tray: Dip Tray with Lid
Dip tray for soaking automotive body side moldings in BEAN•e•doo® 280AH Automotive Adhesive Remover. Franmar's Dip Tray is heavy duty, durable, can easily be attached to any wall and is ideal for any automotive shop.
Heavy duty, durable dip tray
Can easily be attached to any shop wall
Specially sized for auto body side moldings
Tray dimensions: 59" long x 5" tall x 6" wide.
Companion Product:
BEAN•e•doo® 280AH Automotive Adhesive Remover